iCHICK PLANNER
00014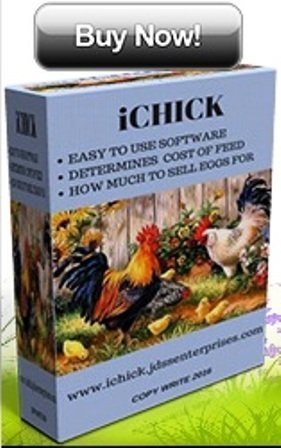 iCHICK PLANNER
This product provides you with the following tools
to aid you in raising your back yard or larger flocks.
Determine how much feed is require to feed chicks, teenagers, and adults.

The planner will also give the costs for each stage of life.

The tool can also assist you in figuring the cost of raising broilers.
The iCHICK Planner will also assist you in determining the cost for a dozen eggs.
The data can be downloaded easily into EXCEL for further reviews of the data.
---
When you purchase this product you also get
the following BONUS'S:
Complete help guide document.

A Read Me file.

An E-Book called "Did You Know", contains a lot of information for the beginner person