QUICK FIRE BOX
00103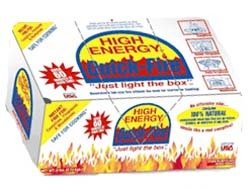 The pucks along with a wax-coated insert are arranged in a manner that once the box is opened, (using easy-pull tab,) the package can easily be lit using a match or lighter.
The product is compact, portable and convenient and contains all that is needed to successfully generate a fire in outdoor applications, such as, fire pits, campfires and patio fireplaces, as well as indoor fireplaces and wood stoves.
100% Natural. Contains compressed wood fuel - no additives of any kind.
Safe for outdoor cooking.
Over 60 minutes of burn time.
Great for camping, picnicking, marshmallow'S, hot-dogging, boating, hiking, RV'ing, snowmobiling, etc.